The ULTIMATE CELEBRATION of the 60's and the group that helped shape them... THE BEATLES!
As Seen on Broadway and Around The World!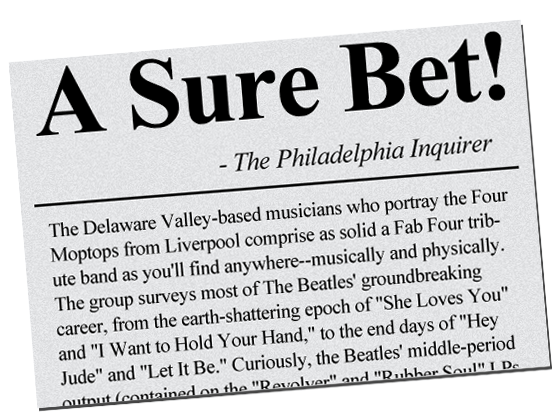 The Philadelphia Inquirer

philly.com
Pretty fab four
If you're looking for a sure bet in AyCee, Trurmp Plaza is the place to be. That's where "Beatlemania Now" is playing through Sept. 2. The Delaware Valley-based musicians who portray the Four Moptops from Liverpool comprise as solid a Fab Four tribute band as you'll find anywhere--musically and physically. The group surveys most of The Beatles' groundbreaking career, from the earth-shattering epoch of "She Loves You" and "I Want to Hold Your Hand," to the end days of "Hey Jude" and "Let It Be."
Curiously, the Beatles' middle-period output (contained on the "Revolver" and "Rubber Soul" LPs, which together formed a crucial bridge between the innocence of "Yeah, Yeah Yeah!" and the groundbreaking--and mind-blowing--adventurism of "Sgt. Pepper's Lonely Hearts Club Band") is totally ignored. We must assume this is due to time constraints.
Nonetheless, "Beatlemania Now" is one of those rare casino shows that will delight folks who remember exactly where they were when John, Paul, George and Ringo changed the world with their first apperance on "The Ed Sullivan Show," as well as their children and grandchildren.
---
Atlantic City Insiders

Review: Beatlemania Now recreates British Invasion at Trump Plaza
Besides their legendary performance on a rooftop in London in 1969, the Beatles stopped touring in August 1966. Beatlemaniacs everywhere have missed the chance to see these legends perform some of their biggest hits to a live audience, including "Hey Jude," "Sgt. Pepper's Lonely Hearts Club Band" and "I am the Walrus."...Read the rest of the article here.
---
New York Daily News

'Beatlemania Now' brings the Fab Four to the Shore for show at Atlantic City's Tropicana
Imagine it is Sunday night, Feb. 9, 1964, and you are part of a television audience of 73 million tuning in to watch four mop-topped kids from Liverpool on "The Ed Sullivan Show."...Read the rest of the article here.
---

Trump Plaza - Atlantic City , NJ - Jun 26, 2014
" Absolutely fantastic. Enjoyed singing along with the guys and had a great time. A must see for all you Beatles fans. "


—manzal

Beatlemania Now stunning - Trump Plaza - Atlantic City , NJ - Jul 2, 2014
"The show was great!! I can see now how good they were when I was to young to attend their concert in the USA. Everyone sang the songs and they had us all on our feet." Favorite moment: The beginning was just like attending the Ed Sullivan Show.


—thompsons1

Trump Plaza - Atlantic City , NJ - Jun 26, 2014
"I am from generation that grew up with the Beatles so it was very nostalgic for me. It brought back many memories. I enjoyed the videos of the era. Performers were excellent and sounded like originals. Would have enjoyed more songs."


—Anonymous

Beatlemania now was great! Cobb Energy Performing Arts Centre - Atlanta , GA - Mar 29, 2014
"We liked everything about Beatlemania--the John, Paul, George and Ringo were excellent musicians and sounded just like the Beatles. The slide show that playing through most of the performance was great too and representative of the culture and the times of the Beatles music. We even loved going to the Cobb Centre.
Favorite moment: The Sargent Pepper Album music and times."
Setlist: Early Beatles, Sargent Pepper, White Album & Let It Be albums


—Keynesian1

Beatlemania Now is Awesome! Cobb Energy Performing Arts Centre - Atlanta , GA - Mar 29, 2014
"What a great evening Beatlemania Now provided my wife and I. We thoroughly enjoyed ourselves and their music was spectacular. Especially nice too was the nostalgic projections on their screen in the background. What a trip down memory lane (or should I say Penny Lane)??!!!
Favorite moment: Each costume change! Also the beginning where they mirrored the Ed Sullivan debut!"


—Striker44

Cobb Energy Performing Arts Centre - Atlanta , GA - Mar 29, 2014
"a great show, costumes were great, music was great, performers were bright, enthusiastic, talented, were any of them really playing those instruments?"


—nchooker

Cobb Energy Performing Arts Centre - Atlanta , GA - Mar 29, 2014
"I am a big Beatles fan. Enjoyed the show. It had me so excited that I was up for hours after the show Saturday night talking to friend across the country about it."
Favorite moment: The early and late period performances


—wittylady

Bob Carr - Orlando , FL
"The show I saw in Orlando was AWESOME. These guys looked...sounded...acted like the Beatles. I have watched every Beatles video availalable and these to me.....were the Beatles live in person. I imagine these tribute folks change in and out.....but the 4 I saw in Orlando blew my expectations away and would pay to see these exact 4 again."


—simikian

Like you were live with the Beatles - Bob Carr Performing Arts Centre - Orlando, FL - Jan 25, 2014
"These guys not only are great musicians, they have the Beatles down pat. It is by far the closest you are ever going to get to actually going to a Beatles concert. The vocals are spot on. The guitar and piano play is amazing. Worth every penny."
Favorite moment: The guy playing George Harrison was an amazing guitar player. It was a toss up between him and the Paul's vocals.


—Floridashowincredible