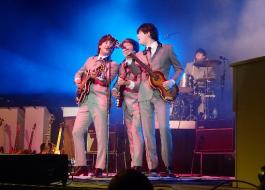 Members of the Beatles tribute band Beatlemania Now perform at the old Washington Coliseum on February 11, 2014
(AFP, Robert MacPherson)
After 50 years, Beatlemania rocks Washington anew
By Robert Macpherson (AFP)
Washington — Beatlemania returned to Washington on Tuesday when the Fab Four's earliest hits once again echoed through the venue where they played their first concert on US soil 50 years earlier.

Instead of screaming teenagers, the rather more adult sell-out crowd of 3,000 at the old Washington Coliseum initially opted to remain seated and sing along to Beatles classics such as "I Saw Her Standing There."

But they sprung to their feet and erupted in dance at the opening chords of "I Want to Hold Your Hand" as a tribute band, Beatlemania Now, in moptop haircuts and sharp 1960s suits, ran through the original 12-song, 35-minute set.

"There's a great energy in here. I feel I'm 16 instead of 66," Banks told AFP during an intermission, after which Beatlemania Now returned in full Sergeant Pepper regalia to play some later Beatles numbers.

Sixties rocker Tommy Roe opened Tuesday's concert, just as he did 50 years before, playing his then-hits "Sheila" and "Everybody" and reminiscing with the crowd.

Copyright © 2014 AFP. All rights reserved.
Click here to read entire review.
back to top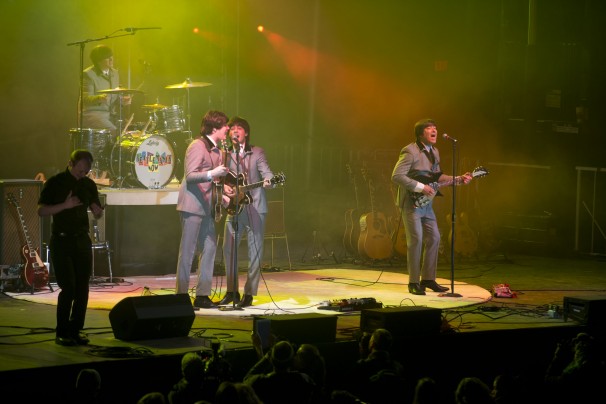 After 50 years, Beatles fans take magical history tour
By Dan Zak, Updated: Wednesday, February 12, 12:04 AM

Under the concrete ribs of the barrel-shell roof of a crumbling coliseum… the Washington Coliseum, the site of the Beatles' first North American concert, on Feb. 11, 1964... the capital awaits the Beatles. Or, rather, the Beatles tribute band. The real thing is exactly 50 years gone on this Tuesday night, in this exact spot in Northeast D.C.,
Beatlemania Now, the expert imitators of that night 50 years ago, are being watched by a man who was there, opening for the Beatles: the singer Tommy Roe.

"It's kind of spooky," says Roe, who will now open for an imitation, half a century later. Also, says Roe: "Surreal."

But on this night, for one night only again, the Beatles haunt the coliseum in shadows and echoes.

They have to go on at 8:31, because that's when the Beatles went on.

And they do, as they did, and they bang out the hits that were banged out before. "I Saw Her Standing There," "I Want to Hold Your Hand," "She Loves You."

A lone redhead in the audience is standing and dancing during the first few songs. The rest of the crowd joins her, until everyone is shimmying upright for "Twist and Shout,"